Studio Rates
Professional Audio... Personal Service... Affordable Pricing.
Here at The Cage, we believe in offering the best quality audio production services for the lowest prices. Although we are a business and our time is very valuable to us, we are committed to helping the artist reach his or her complete musical vision. Keep in mind that all of the services offered below are priced according to the time involved in performing them, but we are more committed to creating great art than making money. Also, some of these prices are mere guidelines rather than set in stone, so we are willing to negotiate in certian situations.
We accept cash, checks, and all major credit cards.
For more information about how we conduct business here at The Cage, please take a look at our Studio Rules page.
NOTE: As of January, 2015, we now charge a non-refundable $25 deposit with every booking. This amount will be deducted from the total on the day of the session. A link to our payment page will be emailed to you at the time of booking.
Standard Studio Recording
Our standard fee for recording in-studio is $35 per hour. This price covers time spent working on your project. We DO NOT charge you for set-up or tear-down time. We don't believe that you should have to pay for the time spent setting up a microphone or an amplifier. The clock begins when everything is set up and the artist is ready to record.
NOTE: All artists recording are expected to be rehearsed and ready to record upon arrival. Any time spent rehearsing in the studio is counted as "recording" time.
For larger projects, we also offer recording in 4-hour blocks for $100 per block or 6-hour blocks for $150 per block. (NOTE: These blocks are intended to be used AT ONCE and cannot be broken up into smaller sessions.)
Mixing
Our standard fee for mixing is $100 per song. This price is based upon the average time it takes to mix a song. On the average, we take around 5 hours to mix one song, so this price is actually less than our standard hourly studio fee. However, if the songs being mixed are simpler and requiring less time to mix, a smaller fee based on an hourly rate is negotiable.
NOTE: If you are bringing us a project to be mixed that was recorded in a different studio, be sure that the tracks to be mixed are digital files in .WAV format ONLY!
Location Recording
Because The Cage is a home-based recording facility, we do not have the physical space to accommodate large groups like choirs, orchestras, or large bands all at the same time. We are, however, completely mobile and able to record "on location" at churches, rehearsal studios, or live events.
For location recording, we charge the same fee as our "In-Studio" recording ($35 per hour, 4-hour blocks for $100 per block, or 6-hour blocks for $150 per block). However, in addition to our standard fee, the client is expected to pay any and all traveling/ transportation expenses incurred during the session.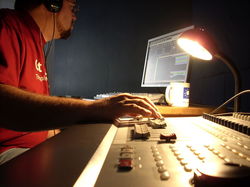 Audio Restoration
Do you have some old LPs or cassettes lying around that you really wish you could listen to on a CD or your mp3 player? Well, in addition to all of our recording, mixing, and mastering services, The Cage also offers quality digital audio restoration services. We will take your LP or tape and transfer it digitally into our mastering suite, remove as many clicks and pops as we can, reduce the background hiss, and then digitally enhance the audio for the best sound possible... all for $10 per record/ tape!
NOTE: If you just want a straight to digital transfer of your audio (without all the bells and whistles listed above), we're glad to do it for you for just $5 per record/ tape.